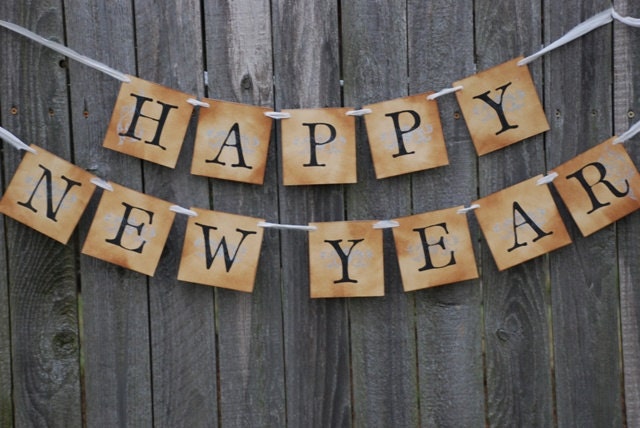 (New Years banner from Etsy
)
Happy New Year, everyone! Tonight, I'll sadly be celebrating the same way I did last New Year's Eve, working. I have a kitchen shift until after midnight. However, my lovely boyfriend, Andrew is going to come hang out at the pub to ring in the new year with me.
I'm usually not a huge fan of New Year's resolutions, as they seem to fall apart within the first month or so. However, I've been pretty productive the past couple months. I've set goals for myself (start making jewelry, open etsy store, start a blog, etc) that I've been able to achieve and it has made me feel pretty proud of myself! I feel much happier now that I'm getting stuff done and spending my time wisely. So, I made a list of things to do/continue doing for this new year!

1. Blog at least twice weekly
I feel like I've been pretty good at blogging regularly, even though it's only been a little over a month since I started this blog. I really enjoy blogging, and have found that I have more to write/post about than I thought I would! I'm not sure how difficult it will be to find subject matter in the future, but my crafting and thrifting adventures should help!

2. List at least 2 new items on Etsy every week.
I've found that I get more views/item favorites on Etsy when I list a new item. I used to list a bunch of new items all a once (20 or 30 in an hour or so), but I've found that it might be better to list one every couple days or so. I'm constantly making new jewelry, so it shouldn't be hard to list a couple items weekly.

3. Break into profit margin with crafting business
I actually just hit $300 in sales yesterday (yayyyy!), but I've spent about $500 on supplies, ad fees, and such. So I'm still negative $200 as far as profit goes. I'll definitely break even in the next couple months, it's just a matter of how soon. This year, I'll be working on ways to increase sales on Etsy and outside of the internet, which leads to my next goal…

4. Do a Craft Show!
I've only been to a couple craft shows, but they have all been awesome and pretty inspiring. It's amazing to see the variety of lovely things people can make by hand. I definitely plan on going to any craft show I can this year, and want to eventually have a booth/table in one. It seems a bit intimidating, and will be a totally different experience from selling online, but I think I'm capable of it!

So that's some of the things I'd like to achieve this year. I'm pretty excited for 2012! How about you guys? Any plans or new years resolutions?